The Chum leads the way with 'Gin at the Inn'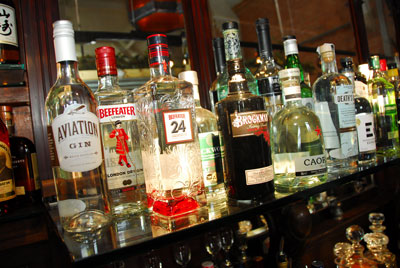 I now see how ahead of things we were by dedicating our back bar here at the Cholmondeley Arms to the great English favourite Gin (and Tonic).
Everywhere I look there is coverage of a gin revival. We opened with 40 different gins and presented to the customer a 'Gin Bible' to help educate and influence experimentation by giving choice. We held our Amateur annual gin making competition in Sloe and Damson Gins in December and we now have a gin evening arranged during our forthcoming Cheshire Game week on 15th February 2012 where "William Chase Gin" distiller James Chase will be talking through the 'farm based' distillery that followed the success of Tyrells Crisps brought about by James's father William.
Naturally gin will be tasted and discussions will ensue at what promises to be one of many gin nights to happen here at the 'Chum'
We have grown to 80 gins on the back bar and are now the biggest purveyor of Gin outside London!!!
Also on the 15th Steve and Stru will be launching (finally) the 'Stirred not Shaken' Cholmondeley Gin Martini and also their "Gintroduction" board!!!
Coupled on the night with Christians Cheshire Game stew cooked with junipers and William Chase Gin cured Salmon on a savoury apple scone and fennel coleslaw it promises to be a great evening!!
Please ring Steve for further details. Below is an article written by Mike Wendling of BBC Radio Four which gives an insight into the growth of the 'micro-distiller'. Interesting stuff indeed!!
To download the article "Gin is the tonic for a creative boom in the drinks business" click here.