Cholmondeley Arms Challenge Quiz Cup
The Chomondeley Final Leader Board
Gin + 42 42
Kelsall Kwizzicals 41
Local Peasants 30
Surf & Turf 28
Nelson's Pickle 23
Wafty Crankers 15
Keeping Up with the Jones' 13
The Good Lifers 10
Walliams 10
Four Candles 8
John & Bev 7
The JW Experience 5
Gin + 42 win overall quiz champion!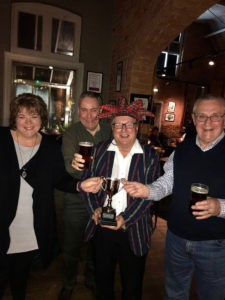 The final quiz took place on the 24th April and had an astonishing fight to the death to secure the trophy between at least four teams. The double points at the final event just made it that much more tantalising with Gin + 42 leaping from third place to snatch the trophy away from last year's winners, Kelsall Kwizzicals, by just the one point!
Thanks to Ted for all the great quizzes of the season and we look forward to welcoming him back for the Head to Ted final quiz held at our sister pub the Three Greyhounds on the 30th May!