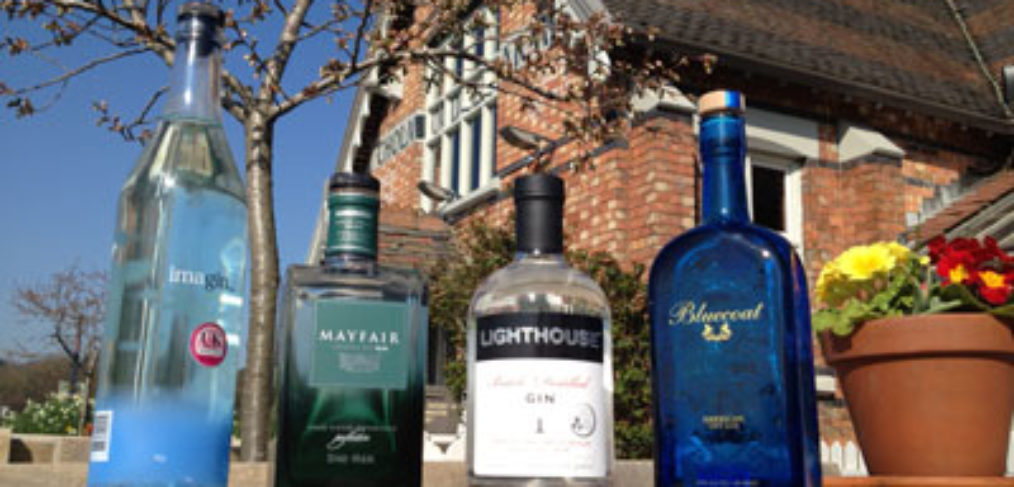 Unbelievably the gin collection here at the Cholmondeley Arms has now gone through the 90 barrier!!!
In at number 86 is a gin brought in by a kind customer who was taking advantage of our now famous…."bring Gin to the Inn" promotion (see events page here on the website) where we pay for the unique gin you bring and reward you with £10 of Cholmondeley vouchers at the same time!!!

New Beefeater London Market Limited Edition Gin
Hot off the press comes the news of another unique Beefeater Limited Edition gin. This time Master Distiller Desmond Payne has followed in the footsteps of Beefeater founder James Burrough who in the nineteenth century sought out the best ingredients he could find in London's celebrated food markets such as the original Covent Garden. So the new gin contains new ingredients found today on London's market stalls such as pomegranate seeds, kaffir lime leaves and cardamom pods.
With over 40 years in the industry, Desmond Payne is the world's most experienced gin distiller and at the heart of Beefeater's innovation. As Desmond explains: "By using these exotic botanicals, I wanted to create a gin that captures the drinker's imagination, reminding them of the aromas, tastes and charm of London's bustling markets in the summertime."
And what do these new botanicals bring? The use of pomegranate produces a berry-like note to introduce a complex and balanced progression of flavours on the palate. Beefeater's traditional citrus notes of lemon and bitter orange are complimented by the softer lime flavour of Kaffir lime leaves whilst the sweet spice aromas of cardamom gently soften the gin on the palate.
At number 87 is Bluecoat American Dry Gin
Bluecoat American Dry Gin is distilled using a variety of organic juniper berries. The taste is spicy and earthy, with notes of citrus peel and other organic botanicals.
At number 88 is Imagin Dry Gin
Imagin is comprised of juniper and twelve further botanicals. On the palate, this gin has complex notes of herbs, spices and citrus, all balanced perfectly and means Sweden is represented on the gin 'back bar'.
At number 89 is Mayfair Gin
Mayfair gin has a big hit of juniper, followed by a touch of spice and a residual sweetness. This is a well-balanced gin with a long finish.
And then finally the number 90 is the exceptionally special Lighthouse Gin from New Zealand
Lighthouse™ Gin is, first and foremost, a New Zealand gin.
Whilst the history of gin goes back to at least the mid-fifteenth century in Holland, its true antecedents are much earlier, founded in those first experiments in the ancient and mysterious art of distilling in the presence of herbs and spices.
The predominant flavour and aroma of a modern distilled dry gin will always come from juniper and coriander, but the great challenge for the distiller is to select and blend a variety of additional, exotic botanicals to impart a uniquely satisfying, balanced character to the gin.
Lighthouse Gin
For Lighthouse™ Gin Neil took pleasure in researching and experimenting with many such botanicals, and, among those finally selected, after several years of trial, are the dried leaves from the unique New Zealand botanicals kawa kawa, together with the fresh zest of New Zealand-grown navel oranges and Yen Ben lemons, the intense-flavoured descendant of the famous Lisbon lemon. These components lend herbal and citrus notes to the gin, distinguishing it from its English and American counterparts.
Lighthouse™ Gin is made by hand in the classic 'distilled dry gin' tradition, utilising nine botanicals in their natural state. The distillers create the gin in a 200-litre copper still, which Neil designed himself, and had specially built by local craftsmen at 2K Design in Masterton.
The final formula of Lighthouse™ Gin must remain a secret, but the distillers believe they have achieved a distinctive and complex gin that is smooth and fresh and combines herbal, citrus, and spicy characteristics, with a subtle delicacy. The double distillation process is costly and time-consuming but results in a softer, more refined, and more approachable spirit, with each batch having its own subtle signature.
To answer the question – does this gin reach new heights? Well, from all reports coming back from the experts and connoisseurs, it does. And in the great tradition of kiwi quality and reputation, it is a worthy newcomer.
Lighthouse™ Gin is hand crafted, hand bottled, hand labelled, and the heart cut of a small number of distillations is double distilled and combined into a batch.