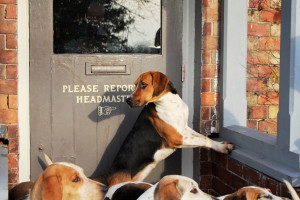 Dogs Welcome
We welcome well behaved dogs in all areas of the pub here at the Cholmondeley Arms.
The Cholmondeley Arms has been listed by the Telegraph in the top ten places to stay with your dog in four separate features over the last three years with the latest article in the travel section of their Stella magazine. We are very proud of this.
There are water bowls with fresh tap water by the front door and around the garden and on the bar is a jar of dog biscuits for our four legged 'Chums'.
We have designated bedrooms where well behaved dogs can stay overnight with their owners a £10 charge will be added to your room.
We have imported very special Belgian Beers for Dogs. Why not reward your hound with a dog beer at the bar? This is naturally an alcohol free Chicken or beef based stock drink for dogs and they love it!!!
Cholmondeley Arms is voted in top five Dog Friendly Hotels….
After the Telegraph have voted us in their top ten places to stay with your dog now 'Lounging Hound' www.thelounginghound.com have also acknowledged our Dog Friendly status. Click the link below and read all about us.