Sunday May 5th 2013 the Cholmondeley Car Club was officially launched!!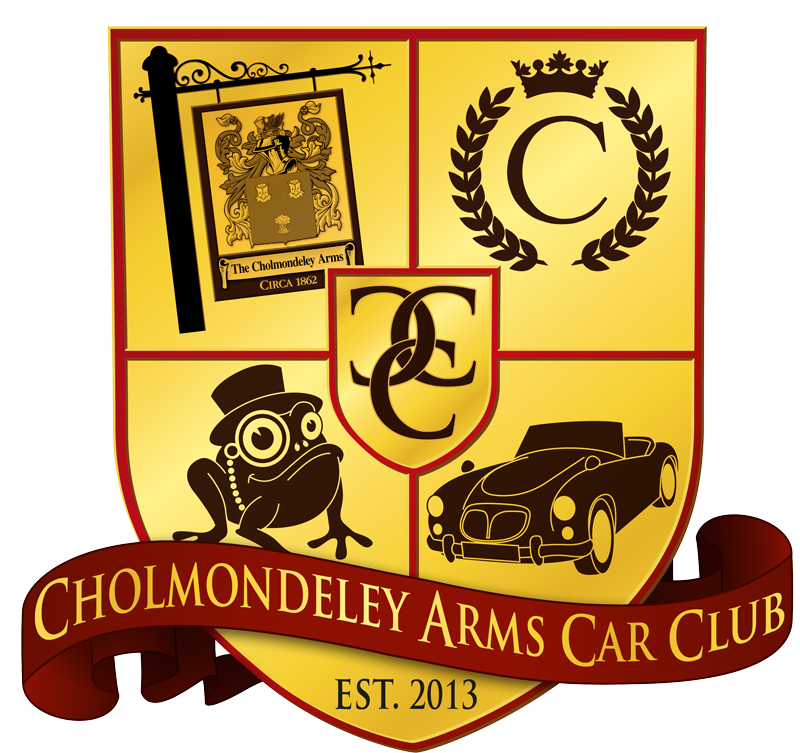 How to Join
To be a member of this elite and fun car club all you must do is….
A) Own a beautiful car that you are proud of….
B) Park your beloved car at the Cholmondeley Arms….
C) Take a photo of your proud Car with the Cholmondeley Arms in the background and email the photo into Helen and the team at our email address info@cholmondeleyarms.co.uk with your name and your cars name/make, model etc. It's as simple as that!!
Your Car picture will then be proudly presented on the website. We will be organising special events throughout the year for Club Members. As well as the annual Cholmondeley Treasure Hunt every October.
There is no joining fee for the Club. We will from time to time ask for small donations for local charities at our club events.
Each member on joining will receive a Car club Mug, a car sticker and a free pint of Cholmondeley Best Bitter (or glass of wine) served to them proudly in the pub!! Mugs will be presented when you visit to claim your pint or glass of wine or at the special events we arrange.
So come and enjoy the Cholmondeley Car club now!!!
Our Club Badge
There are four key influences on the badge, Our Cholmondeley Arms of course, who will run the club.
There will naturally be some positive rivalry between the Chum Car Club and our other car clubs at our Bulls Head, Three Greyhounds Inn and Fitzherbert Arms. You will also automatically become a member of our Cheshire Cat Pub Car Club, a larger club which unites our local Pub Clubs
Also on the badge is the Cholmondeley 'Power and Speed' Crest which highlighted one of the biggest Sports car events in the UK held each year in the beautiful grounds of Cholmondeley Castle.
We have included a car symbol on the badge too reflecting the need for the club to recognise sports cars, vintage cars, classic cars and new models too!!
Finally on the badge there is a Toad. Acknowledgment of our loyal guests, the wonderful 'Toads Car Club' who, become honorary members immediately. And were the first Car Club to form at the Chum.
Below are some of the stunning vehicles that graced the Chum for two years before we started the Chum Car Club. So it is understandable why we started the Club back in 2013.