Gin number 77 and number 78 arrive!!!!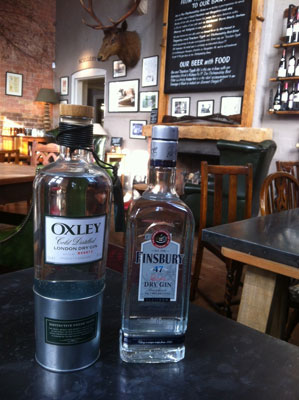 After being open just 5 months the Chum has almost doubled its Gin collection on the back bar!!! Struan our Gin Champion at the Chum welcomed gin number 77 and number 78 today as you can see from the photo.
Oxley is a revolutionary English Gin with a fresh, bright, smooth classic gin taste. Oxley is made from an innovative cold distillation process. Cold distillation occurs at -5c capturing the natural flavours of the botanicals and preserving them in the final spirit.
Finsbury is distilled with juniper berries, exotic fruits, herbs and spices according to an elaborate method from the 18th century. The recipe is a well-kept secret and unchanged to this day. Finsbury is a particularly fine and mild representative of the flavour "London Dry Gin', preferred both internationally and in Great Britain. Finsbury Gin has a rich aroma with a fine and elegant bouquet and is ideal for many popular long drinks and cocktails, including the great world classics; Gin and Tonic, Singapore Sling and Dry Martini. The 47 comes from its strength 47% abv!!
G&T anybody!!!??