Cholmondeley thanks James Chase.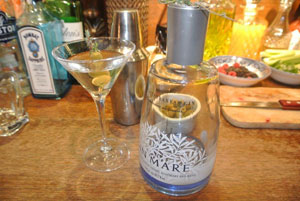 Wednesday night was a special evening here at Cholmondeleyas James Chase, son of founder William Chase, came to speak about their famous Apple Gin distilled in Herefordshire at the Chase Distillery along with the now world famous Chase Vodka. Winner of the best Vodka at the San Francisco Drinks Competition a few years back.
James, who is the marketing director of 'William Chase' talked passionately about gin, its history and how it is core to the future distilling at Chase. Attendees at the talk all learnt a little more about gin and sampled a superb Chase Gin and Fever tree tonic garnished with apple and served with ice of course. A miniature version of this fantastic gin was also presented to each and every one who attended so they could savour more gin at home or indeed hang on to as a reminder of the evening.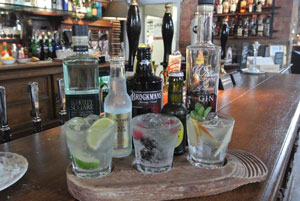 On the night our Stru "Gin-troduced" the new 'Gin-troduction' tray (pictured) which is for two or three persons to share to introduce them to the varying tastes of different gins with different tonic and garnishes too. This will sell for £15.00 (so a 'fiver' each really) and gives you three gins to sample….. Berkeley Square Gin, Brockmans Gin and of course William Chase Gin. All are very different and I don't want to reveal too much as we look forward to you trying them and telling us what you think.
Also launched on the night was Struan's Cholmondeley Martini. Stirred not shaken, this Martini (Pictured below) is a classic using the Spanish 'Gin Mare' whose 'botanicals' include fresh basil, Olives, Thyme and Rosemary. It is finished with a smidgen of Noilly Prat then ice chilled and garnished with an olive and sprig of thyme!!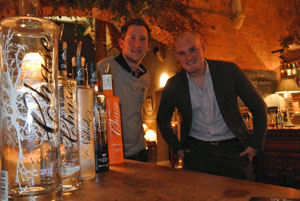 Thanks to Struan for making the Martini 'live' in front of the gin audience!!!
What a 'pro' he is!!
Also a massive thanks to James Chase, who I have to say is so enthusiastic about his Gin it made for a refreshing evening in more ways than one!!!
He did confess that he used to come to Cholmondeley as a boy and could not believe how much the pub had changed since our recent restoration work.
Thanks too to everyone who attended.