The Cholmondeley Arms welcome more new gins to the fold………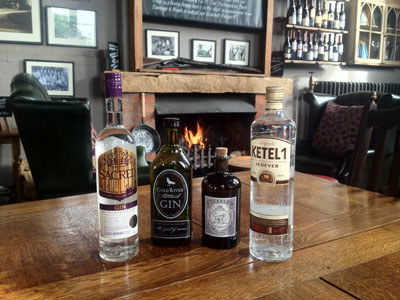 The 82nd gin is called Sacred Gin, this is an aromatic and creamy gin with exceptional character. Each botanical is separately macerated and redistilled with English grain spirit at low temperatures, then combined according to a secret recipe, creating a lush and fresh London Dry Gin like no other.
Number 83 is Cold River Gin which is produced using alcohol made from Maine potatoes and a secret blend of seven traditional botanicals: juniper berries, coriander, lemon peel, orange peel, orris root, angelica root and cardamom. The recipe dates back to the early days of British gin. Good taste is about balance and it is the balance of the botanicals that makes Cold River Gin one of the world's most exquisite gins.
Number 84 is Monkey 47 a dry gin with a strong body, very aromatic, with notes of pine needles, juniper berries, herbs, citrus flavours and floral nuances.
Number 85 is the familiar name of Ketel 1 which has been associated with vodka for many a year the flavour characteristics are due to the distillation method, in which the second distillation is completed with juniper berries and herbs. This gin is clear and transparent, with aromas of juniper berries and malt, providing a fresh taste and shows the pedigree we expect from Ketel.