What a great view from the Cholmondeley Arms.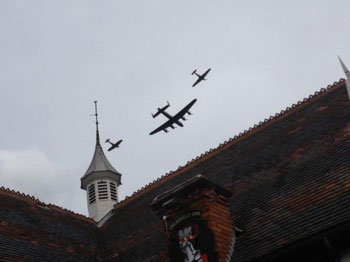 A lot of people avoid the Cholmondeley Arms at 'Pageant of Power' time because they think it will be too busy at the pub. Well it is quite the opposite.
The weekend is an excellent time to come over and enjoy a view of the aerobatics as well as famous fly bys performed by the Avro Lancaster Bomber and the two Spitfires pictured here
You can enjoy time at the Cholmondeley Arms even if you have no interest in cars. The atmosphere is excellent and on Saturday night one can see the fireworks and hear the music while enjoying our garden!!
The Sunday is of course Father's day and is a time to treat dad to an excellent pub lunch or dinner and give him the added entertainment of vintage WWII planes flying past for free!!
So next year remember the Cholmondeley on Father's Day weekend.