We have won it!!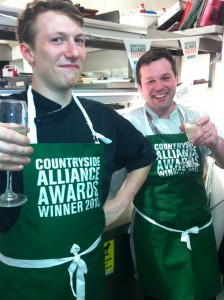 A letter arrived today confirming the Cholmondeley Arms is the winner of the 2013/14 Countryside Alliance Local Food Award for the Northwest of England!! This is a major win for the Chum and particularly head chef Christian (pictured right) and his team of chefs, Dean (pictured left with Christian), John, Eric and James. This award is the first presented to a rural pub in Cheshire!!
We are all very, very proud indeed and it is real recognition of all the work Christian and the team have put in to our menu with local farmers, butchers, cheese-makers and growers as well as local game suppliers. Bringing the best and the freshest local ingredients to the plates of our customers at Cholmondeley. I am sure Clarissa would have been very proud too.
This award means three in a row for our pubs with the Bulls Head in Mobberley winning Alistair Sawdays Authentic Pub Award for 2013/14 and then the Three Greyhounds Inn winning Best Food Pub 2013/14 at the Heineken Awards and now the Cholmondeley Arms with this recognition from the Countryside alliance.
Thank you to everyone involved with the Chum past and present who have helped us achieve this honour. We now go forth to the National finals with the national award presented at the House of Lords in the Cholmondeley Room no less, on Wednesday 30th April 2014.