TV chef Clarissa Dickson Wright praises Cholmondeley Arms in new autobiography
Oct 15 2009 by Ben Coulbeck, Chester Chronicle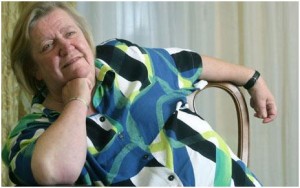 CELEBRITY chef Clarissa Dickson Wright has included a Cheshire pub in her latest autobiography.
The Two Fat Ladies star picked the Cholmondeley Arms as her favourite pub in Cheshire!!
The Malpas pub, on Wrenbury Road, is re-opening its bed and breakfast rooms at the end of the month and Dickson Wright, who released the book 'Rifling through My Drawers' earlier this year, will be attending the celebratory event. A complete renovation of the pub's en-suite rooms is being completed throughout October.
In her latest offering, Dickson Wright pays particular attention to the Cholmondeley Arms' breakfasts. She describes her experience of mornings at the breakfast table as being: "consoled by the hearty breakfasts'
The breakfast also made it onto the '10 best things Clarissa Dickson Wright has ever eaten' list, produced for a BBC Radio 2 show.