Tim celebrates 210th gin for Cholmondeley!!!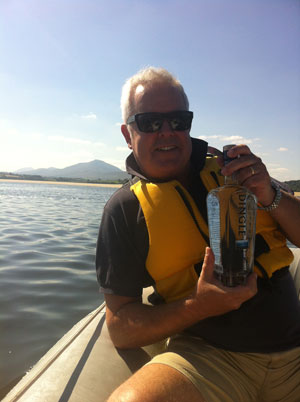 On a beautiful day at sea just off the coast of Donegal, Tim collected the Cholmondeley Arms 210th Gin and sailed to the aptly named Juniper Island situated just off the coast of Northern Donegal in the Irish Republic to celebrate the Dingle Gin! At present there are only two gins made in Ireland and one of these is the hand-crafted, artisan Dingle Original Gin. It is the product of a considerable amount of research, both technical and historical, and experimentation. The aim was to create a totally new gin, one which worked within the great tradition of gin distilling but which also came with a degree of innovation.
Dingle Original Gin is made in small batches of 500 litres. In terms of its broad style, this is what is categorised as a London dry gin but the unique character and flavour come from the painstaking and original choice of botanicals.
This secret combination of flavour elements are macerated in spirit for 24 hours. Then, when the spirit is distilled, it passes through a flavour basket in the neck of the still. This underlines the attention to detail that is an essential part of our whole approach to the art of distillation.
The Dingle people are not prepared to reveal their recipe but are happy to give some idea of what is involved in creating the unique flavour profile of Dingle Original Gin.. They use, amongst other botanicals, rowan berry from the mountain ash trees, fuchsia, bog myrtle, hawthorn and heather for a taste of the Kerry landscape. It's a formula unknown elsewhere and is calculated, amongst other things, to create some sense of place and provenance, what winemakers might call the gout de terroir.. The spirit is collected at 70% abv and then cut to 40% abv using the purest of water which we draw from our own well, 240 feet below the distillery.
Peter Mosley sums up DOG's unique character in a few words: "The uniquely Irish botanicals give a fabulously fresh, floral character that perfectly balances the traditional juniper. But, to be honest, you really have to taste it for yourself."
Tim and his friends enjoyed the Dingle Gin on Juniper Island and he is now bringing back a couple of bottles for the customers of Cholmondeley to enjoy. He also has a bottle of Cork Gin too…
So with a lot of exciting gin arriving from 1st September 2014 come to Cholmondeley and let the team entertain you.