The Cholmondeley Arms made a great 'room at the Inn' for Warren!!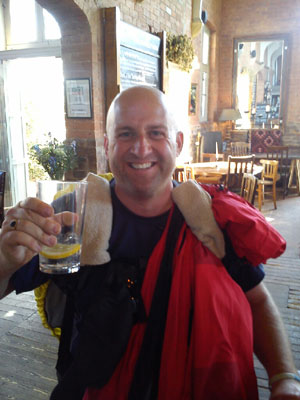 The Cholmondeley Arms played host to an unexpected visitor on Good Friday!! This is Warren, he is walking from Lands' End to John O'Groats to raise money for Macmillan cancer care. He was six weeks into the walk when he stumbled across the Chum and popped in to ask where he was and if he could have some water (he is walking without a map!) He also wanted to know where the nearest B&B was and if he could make it there before dusk.
When Ben our company support manager informed him that he might like to have a Guinness instead of a water, and that the nearest B&B was the other side of the car park he looked relieved to say the least.
Ben then told him that as it was Good Friday (a fact that he was unaware of) and in lieu of a financial contribution towards the sponsorship of his walk, he could have the room, and the beer, for free!
I think it is fair to say that this brought him to the verge of tears, and after a good long rest and a hot shower he continued his walk the following morning.
Next stop for Warren was Warrington, then onwards to Scotland and John O'Groats which he was hoping to reach within the next 2 months!
The only worry with Warren is that he hadn't planned a way to get home when he finished the walk, and as home for him is Southampton, he could be still walking come Christmas!
We all wish him well and let us know if you do it!!