The Cholmondeley Arms appreciates the recognition!!!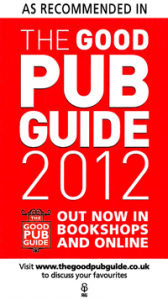 The Good Pub guide have included us in their 2012 edition.
We are very proud of our team who have achieved this success, however the most important thing for the Cholmondeley Arms is to deliver great service consistently year after year and that is our goal. Thank you to our customers for putting us in the book so to speak!!
We will always endeavour to deliver a great experience for all here at 'the Chum'