Pub in the Park 2019 kicks off!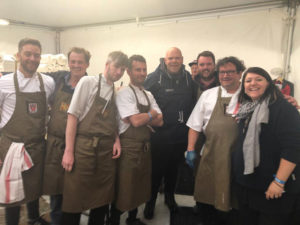 This year we are honoured to have, not just one, but two pubs at Tom Kerridge's Pub in the Park! The Cholmondeley Arms have joined the Church Inn this year and both teams will cook side by side. Not quite 'when two tribes go to war' but there will certainly be some friendly competition for sure.
hurch Inn Head chef Richard….Pub Chef of the Year, of course, is leading his team versus Andy, our Cholmondeley Arms Head chef… they are joined by other chefs from our pubs with landlords Simon and Tim of course. Jess will be trying to keep them all under control and Dan is back to help both camps keep up with prep and washing up!
The photo shows every one with Tom Kerridge just before the big opening at the Lambing Shed in Knutsford!
We look forward to a great weekend! See you all soon!