Porsche Chester guests become treasure hunters at the Chum!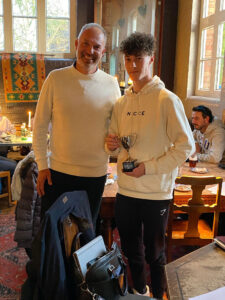 What a great day for a car treasure hunt! Sunny, dry and lovely blue skies greeted the 'hunters', for their 'country roads drive' around the lanes of Cholmondeley, set up by Porsche Chester, in association with the Cholmondeley Arms team.
Like the Chum's own annual treasure hunt, the car team pairs were sent off individually to find clues around the estate and beyond. They also had to answer quiz questions, take photos of certain objects and do a little shopping too!
Everyone arrived back safely and presented their completed papers for the marking to commence. Kat, from Porsche Chester, was 'head adjudicator' with owner Tim and deputy Alex giving a hand!
While the teams enjoyed refreshments and nibbles, the marking was completed…..drum roll……In joint third place were the 'Rich Tings' and the 'Super Sleuth's. In second place was 'Monty's Best Friend'. Well done to all.
The Porsche Chester Cholmondeley Treasure Hunt Champions 2021 were the 9-9 TWO Team (pictured)! Congratulations to them and indeed all the cars that took part. Everyone made it round and had a great time.
We would like to thank our loyal, longstanding, car event sponsors Porsche Chester, for arranging the event with us and Team Chum for looking after everyone.
See you all again next year!