Old School 'Bike Shed' has a makeover!!!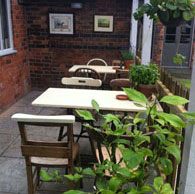 Our landlord Steve has introduced some rather posh cigars here at the 'Chum' and of course with life being outside for smokers these days the old school 'bike shed' has been given a makeover and looks a bit more like a 'potting shed' now.
However in this poor summer weather the new 'bike shed' offers outdoor shelter with a bit of homely English charm for those wishing to eat al fresco or indeed have a puff on a cigar!!
So you naughty school boys who want to puff please report to the 'bike shed'!!!