New Champs at the Chum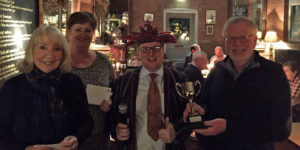 Tuesday 25th April saw new champions pick up the Cholmondeley Arms quiz cup plus lots of Cholmondleey Arms vouchers and a free gin tasting!!
The Kelsall Quizzicles were the 2017 champions-well done and congratulations!!
Big thanks as always to Professor Ted our supreme quiz master, we couldn't do it without you!!
The 'Ted to Head' final between the Cholmondeley Arms and The Bulls Head happens at the Three Greyhounds on Wednesday 24th May at 8pm.
A big thankyou to all of the teams that took part in the quizzes over the past 6 months- we will be back in September!