New Champs at Chum!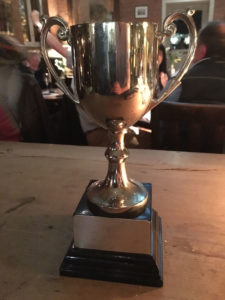 Tuesday 26th saw new champions pick up the Cholmondeley Arms Quiz Cup plus lots of Cholmondeley Arms vouchers and a free Gin Tasting!
Appropriately named Gin+42 (pictured) were true champs picking up a massive 66 pints overall. Well done and congratulations!
2nd place fell to Nelsons Pickle on 46 points, third were Kelsall Kwizzicals with 38 points and last years champs, Four Candles, were 4th with 16 points.
Tim was on hand to take the snaps and congratulate the winners as team captain of the Four Candles handed the trophy over to Team Gin+42!
Big thanks as always to Professor Ted our supreme quiz master! We couldn't do it without you! The 'Ted to Head' final between the Cholmondeley Arms and Bulls Head happens at the Three Greyhounds Inn on Wednesday 25th May from 8pm.
Thanks to all the teams that took part in the quizzes over the last 6 months we will be back in September!