Professor Ted's Quiz Final at the Cholmondeley Arms…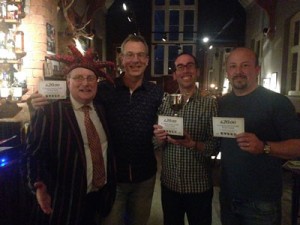 Tuesday Evening saw Professor Ted's quiz final at the Cholmondeley Arms, with over 12 teams battling to win.
Every month the winning quiz teams are awarded points to join the leader board, the season runs from October to April. At the final quiz of the season double points are awarded to the top 5 teams. There were four teams that were all in contention to be crowned leader board champions.
After a very exciting quiz, the scores were announced… The winners of Tuesdays quiz were a new team, despite their best efforts they were unable to budge the 'Four Candles' from the top of the leader board. Each team member won a £20 voucher and the whole team won a gin tasting.
We look forward to seeing you at the 'Ted to Head' on May 27th at the Three Greyhounds in Allostock…