Gins up to 115 in our first year!!!!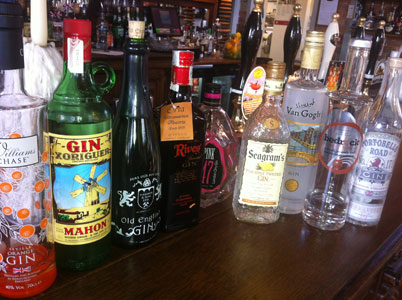 Yes we have completed a year of being open as the 'new' Cholmondeley Arms. September being the month we opened last year 2011. We set our stall out then to be the best pub in Cheshire for the enjoyment of a Gin and Tonic (amongst many other things of course!!) and in turn create a legend.
Little did we know 18 months ago when Tim first visited the 'Chum' and decided Gins were definitely the thing to do here, that gin would have become so popular with micro/craft distillers popping up everywhere.
Trips to different parts of the UK and Europe have helped teach us so much about this famous and slightly infamous spirit. The glass, the fruit, the botanicals, the ice, the tonics and of course the gins themselves have all been explored.
We run an annual amateur Fruit Gin making competition, we have guest speakers such as James Chase from the Chase Distillery talking through Gin. We have tasting sessions for those guests that want to learn just a little bit more about Gin and its history. We operate 'Bring Gin to the Inn' where customers themselves can search out Gins on our behalf and be rewarded for doing so.
Our aim was to start with the 'Cholmondeley Top Forty Gins' in our house 'Gin Bible' and add to our collection through our pro-active Gin suppliers, our enthusiastic team and of course our customers who have all brought 'Gin to the Inn' over the last year from as far afield as the States and the Far East.
We have built our collection now to 115 different gins. We are the biggest purveyor of Gin in Cheshire, in fact the north of England and in our second year we aim to make the Gin Bible more informative, have Gin Quarterlies that focus the guest on new craft gins as well as some classics changing the list four times a year, add value to our 'Gin Tasting Classes' and of course build our collection and our knowledge. So come and help us…enjoy a classic Gin and tonic with us. Thank you to ALL our customers who have supported us in our first year!!!! We are so grateful for your business.