Gins go through the 180!!!!!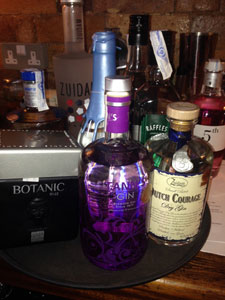 This famous number normally shouted out with Gusto at a televised darts tournament is now being shouted out even louder by our team here at the Cholmondeley Arms!!! Yes it is true the gin tally has rocketed largely thanks to our wonderful customers who are travelling the world to bring back rare gins to add to the Cholmondeley collection!! A very big thank you to all who brought 'Gin to the Inn'.
If you are a gin fan then pop in to the Cholmondeley Arms ask for Steve, Struan, Monika, Anna or Adam…if you can remember all those names!! They will take you through some of the best and rarest gins out there and of course mix you your preferred option!!
Gin classes too are becoming very popular and indeed that's why we are now doing them on week day evenings!! This Christmas why not book your gin tasting with Christmas dinner to follow!!