Gin Festival 2018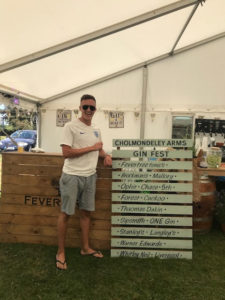 Last weekend has been a fantastic festival of gin, with a record breaking weekend, bigger and better than previous years!
With crowds coming to spend their weekend at the Cholmondeley sipping different gins from the outside bar, enjoying our BBQ with delicious stone baked pizzas! And dancing the night away to a great line up of live music all weekend.
Not only that but history was made on the Saturday as England beat Sweden in the World Cup Quarter Finals! This will be the first time in 28 years they have made it to the Semi finals! So we are happy to say it was a 'Gin Gin Situation'.
A big thank you goes out to all our distillers including Thomas Dakin, Sipsmith, Stanley's Gin, 5th Gin, Whitley Neil, Chase Gin, Warner Edwards, Forest Gin, One Gin, Langleys, Spirit of George, Opihir, Cuckoo, Brockmans and fever tree tonic for being a part of Gin Fest 2018. Another thank you goes out to all our customers and to all our staff for their hard work!
This past weekend has been a true 'GIN'spiration of what's to come! We hope to see you all at Gin Fest 2019!