Gin classes off with a bang!!!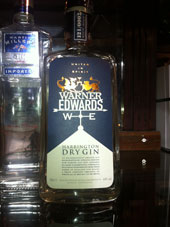 The Cholmondeley Arms Saturday afternoon Gin tasting classes have got off to a great start!! As we reached the 140 gin mark (just 21 behind the Guinness book of records) Terry and his family, celebrating his birthday, were first off. As the picture shows Terry and his family wasted no time after their training to get home and mix some serious G'n'T's!!
The class consists of tasting the six styles of Gin, tasting four different tonic waters, learning about botanicals, gin history and the perfect serves. You then get to order your favourite of the ones tested as a complete Gin and Tonic!! There is a warm up quiz and lots of fun and banter in the name of gin!! You can see our 'Gin Champion' Struan taking a class through their paces with our landlord Steve as the 'assist'.
If you want to come and enjoy our gin tasting classes then book your party (maximum 12) in on a Saturday afternoon with Steve or Struan and become a gin expert!! Remember we also have 6 bedrooms if you want to stay and make a night of it!!