First Craft Gin to come from Mallorca!!!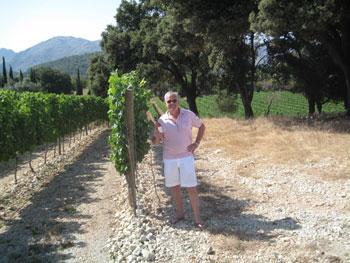 Two years ago I stood in the vineyards of Ca'n Vidalet in the northwest of Mallorca approximately one and a half kilometres from Pollenca. I was keen then to get Mallorcan wines recognised for their quality back here in England and more specifically at our first pub in Cheshire the Bulls Head. I am back again in Mallorca looking at wine and spending more time researching the growth in Gin here on the Island. To my surprise I found that the vineyard of Ca'n Vidalet is a craft Gin distillery as well as an exceptional
winery now.
'Eleven' is a gin made from…no surprises here…eleven Botanicals. This gin is different though it has been developed from a Pomace base that would normally be used to make Grappa. The botanicals are typically Mediterranean, with rosemary, Thyme and coriander, there are floral and citrus notes but this gin is pure and I mean really pure!! Gin Mare the most famous Spanish Gin would struggle against this excellent craft gin.
It is the first gin produced completely on the Island and a bottle will soon be on the bar of The Cholmondeley Arms served with a less sweet tonic and a piece of lemon zest and ice this is a distinctly different gin.
Hopefully our import will be here for Christmas in the meantime wait patiently!!!