Farmers is on its way from the U.S!!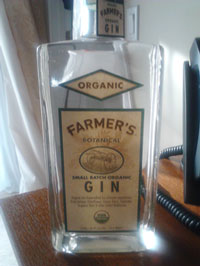 Yes thanks to regular Chris 'Gin is coming to the Inn' this time from the U.S in the form of Farmers Organic Gin …..Big thanks to Chris you can read about the gin below. If you want to 'Bring Gin to the Inn' email us from your holiday in Europe or the US and we will confirm whether we have the gin you have found. If we haven't please bring it back with a receipt and we will pay you back for it as well as paying you £10 in Cholmondeley vouchers to buy a couple of Gin and Tonics on us!!
Botanicals in Organic Balance
Farmer's Organic Gin is handcrafted in small batches from carefully selected botanicals and the purest grains. Providing a pristinely clean palette for the artful infusion of botanicals, the distillate is made from sustainably farmed grain grown in the U.S. Certified organic by the USDA, Farmer's Gin possesses a complexity and unique taste profile due to its remarkably balanced selection of organic botanicals, including juniper, elderflower, lemon grass, coriander, and angelica root.
Why they call it Farmer's
In order to produce a flavorful organic gin, they sought out farmers dedicated to sustainability and preserving the earth. They found four farms growing organic crops that could help them create the highest quality organic gin. They think that there is no better way to honour their farmers than by naming our organic gin after them.