Chum reaches Final!!!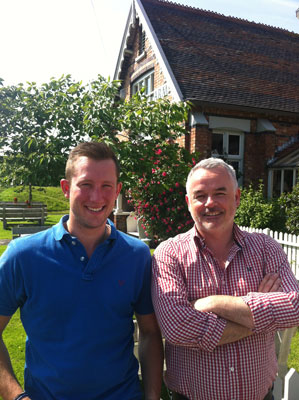 The Cholmondeley Arms has reached the final of the 'Best Spirit Serving Pub' at the London Hilton having got through the regional finals in the Great British Pub awards 2013. Steve, our landlord and Gin Champion and Struan, our Deputy and Gin Ambassador, stood proud outside the Cholmondeley Arms as the judge arrived to put them to the test!!! Lucky the judge had a taxi booked!!
This is recognition for the great efforts of Steve, Struan and Monika who have all combined to ensure our gin act is second to none. To add spice to the week the Chum managed to go past the 161 gins stocked by a bar in the Guinness book of records!!!
Gin classes are getting booked out on Saturday afternoons as guests to 'the Chum' want to enjoy the Gin experience and learn about the history of a very English spirit.
So fingers crossed on 12th September 2013 when the team go to London!!
Good luck to the team.