Chester Chronicle published August 4th 2014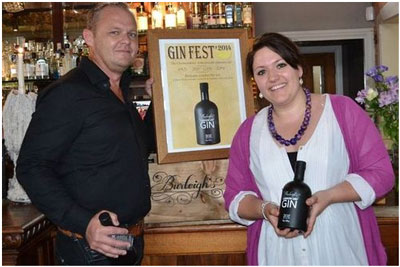 A Cheshire pub has welcomed the 200th gin to its record-breaking collection.
The arrival of the 200th gin at The Cholmondeley Arms, near Malpas, marked the end of a week-long 'Gin Fest' and the third anniversary of the pub's refurbishment and opening.
Tim Bird and Mary McLaughlin opened the pub in 2011 with 40 gins and established a reputation for stocking a collection of some of the best and most unusual gins in the country.
The 200th gin to be unveiled was a newly launched Burleigh's Gin.
The new gin arrived at the pub in a helicoptor, where it was welcomed by hundreds of guests and locals celebrating the culmination of 'Gin Fest', which saw gin tastings, a collection of sports and vintage cars, live music and a pop-up gin bar in the pub's garden.
Tim Bird, owner of the Cholmondeley Arms, said: "It was a fantastic festival of gin at the weekend.
"We're delighted to welcome the 200th gin to our collection and intend to keep building on this in the years to come."
The pub continues to challenge brand owners and customers to 'bring a gin to the Inn' to see if they have it in stock.