Cheer yourself up at the Cholmondeley Arms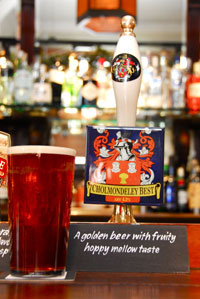 The National Institute of Economic & Social Research (NIESR) has warned that the economic recovery will be "the weakest of any since the First World War", after its first estimate for GDP growth in September suggested that the economy grew by 0.5% in the third quarter.
The NIESR warned that GDP is still 4% below its pre-recession peak, which means the recovery will be the weakest of any since the First World War and said that although the UK is likely to have departed the recession, we are in a 'depression'.
So that should change the conversation here at the pub….the good news? We aren't in a recession anymore!!! Yippee!!……The bad news?? We are now in a depression!!!
Well for us there is no need for depression of any kind when here at your favourite pub a great pint of cask ale, a glass of warming red wine, home cooked wholesome comfort food and a lit fire await you but most importantly all with a smile!! They say the best tonic has a large gin in it!!
So if your recession has just become a depression pop in a cheer yourself up!!