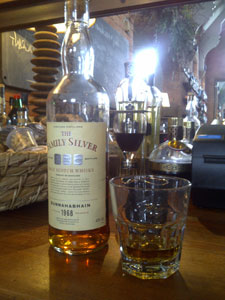 Yes it is true while cleaning the bar shelves holding our whisky collection, Steve our landlord studied the label of the Bunnahabhain which was believed to be a 12 year old priced at £3.60 a shot. On closer examination the label declared "Family Silver 1968" .
Believing this to be a brand name Steve decided to 'Google' the said whisky and discovered that it cost in the region of £350 a bottle or £700.00 a bottle at retail value!!!!! Yep and we have been selling it at £3.60 a shot!!!
The bottle has been returned to the shelf and if you want a wee dram it will cost you £25 a shot from today. To those whisky lovers that have enjoyed a few shots at our expense then good luck to you!! Amazing what you find on the shelves of the bar!!
Need to clean more often Steve!!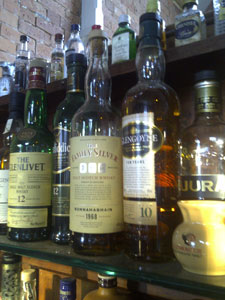 Bunnahabhain (Scottish Gaelic: Bun na h-Abhainn) is a village on the northeast coast of the isle of Islay, which is in the Argyll and Bute area of Scotland, in the Inner Hebrides group of islands. It is also the name of a Scotch whisky distillery located there. The village was established in 1881 to house the distillery's workers, and the distillery still employs the majority of the village's workers.
The surrounding area is also steeped in local history. The ruined village of Margadale, nestled between Margadale Hill and Scarbh Bhreac, was once the busiest marketplace on Islay, with people coming from all over the island for cattle sales.
The name of the village comes from the Scottish Gaelic name Bun na h-Abhainn, meaning Foot of the River.
The distillery in the village produces The Bunnahabhain (Boon-a-havn) which is one of the milder Islay whiskies available and its taste varies greatly from other spirits to be found on the island of Islay, off the west coast of Scotland. The distillery was built in 1881 and sits below the northeast tip of the island just north of Port Askaig. It overlooks a narrow belt of water (the Sound of Islay) with a view of the neighbouring island of Jura (which also has a working distillery) and its famous hills, the "Paps of Jura".